I was reading Jeb Blount's book last week. Fanatical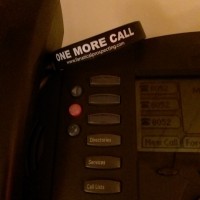 Prospecting.
And, if you know anything about me, you KNOW that I abhor most business books.
But, this one grabbed me. It made me think…HEY! I had NO idea I could do this stuff. I have never even thought this way. NO WONDER this guy's a millionaire!
Seriously.
That's what I thought.
Wondering how to go from 5 to 6 figures in sales? Check out this Free eBook: http://ebook.solidsixblueprint.com/solid-six-ebook/
Then I got excited. I have always KNOWN I could do better, I just didn't know where to look to find the flaws in my performance (yes, *sigh*, even The Irreverent Sales Girl has flaws in her performance – until NOW *grin*).
One of the challenges Jeb puts to you is to make just ONE MORE CALL. So, it was Friday afternoon and I was cold calling my list. Yep, successful people still cold call. And I was tired, but I challenged myself to observe Jeb's rule. Make ONE MORE CALL.
Guess what happened? I closed a deal cha-ching! Paid for the weekend festivities, for sure!
I challenge you. Especially on the days that you have JUST BEEN BEAT UP! Before you turn off the lights, make that ONE MORE CALL.
And, buy Jeb's book. http://amzn.to/1K5bsxC
Love yourself UP!
The Irreverent Sales Girl
Disclaimer: Did Jeb ask me to review his book? Yes. He did.
Do other people ask me to review their books? Yes. They do. (But, I mostly don't)
Know why I reviewed Jeb's book? Because he called me. Cold called me.  Oh, and it was an awesome book, too!
Thoughts about this...