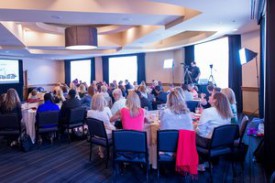 It is officially conference season!
I don't know how YOU feel about conferences, but they always put me a little on edge. I mean, going to the right conferences and meeting the right people is an incredible way to SPEED UP SALES.  But all of those people you have to talk to? And get to know? And approach in an appropriate manner?
Wondering how to go from 5 to 6 figures in sales? Check out this Free eBook: http://ebook.solidsixblueprint.com/solid-six-ebook/
It's exhausting!
Here is one simple thing that I like to keep in mind when I am attending conferences. It helps me a lot and I hope it will help you, too.
People Like To Be Included
They may not look like it. They may not act like it. But, fundamentally, they like to be included. Even if they turn an invitation down, they like to be asked!
Here's how to use this to your advantage at your next conference.
Continue reading Are you a Networking Rock-Star at Conferences? →